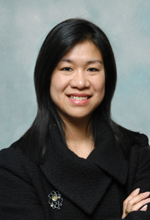 Tina Chang
CEO
Tina maintains a strong background in business leadership and technology innovation. She has demonstrated a dedication to the community through her leadership and board responsibilities with Alverno College, Ascension Healthcare Wisconsin, MMAC, Milwaukee Public Schools Foundation, Teach for America, WCBA, the United Performing Arts Fund, United Way, Wisconsin Policy Forum, and the YMCA-Metro Milwaukee. Tina currently serves on the board of a publicly traded company, Weyco Group, and previously served on the board of The PrivateBank-Wisconsin. Since joining SysLogic in 1996, she has spun off two technology start-ups (SysSpark, LLC, and Cyberspect, LLC).

In 2004, Tina was presented The Business Journal's "40 Under Forty" award for the difference she has made in her profession and community; she was inducted into the Hall of Fame in 2018. In 2005, she received the Governor's Young Entrepreneur of the Year - Technology award. And in 2008, Tina received the United States Postal Service "Women Putting Their Stamp on Metro Milwaukee" award, as well as the Wisconsin Business Hall of Fame Peak Performer award. In 2009, Tina and SysLogic were awarded the United Performing Arts Fund Civic Partnership Award. In 2013, Tina received the Professional Dimensions Sacagawea Award, and was also named a 2013 Woman of Influence by the Milwaukee Business Journal. SysLogic has been a recipient of MMAC's Future 50 award in 2001, 2004 and 2005, as well as the Wisconsin Small Business Innovation Award in 2010. SysLogic has also been named on the Forbes 5000 list of fastest growing businesses.

Originally from New York, Tina attended the University of Wisconsin–Madison, where she received a BBA degree with an emphasis in Marketing and International Business, and the University of Copenhagen, Denmark, where she specialized in environmental accounting and European commerce. Tina also attended Darden School of Business at University of Virginia and the Tuck School of Business at Dartmouth College for their Business Executive Programs.

Tina is always willing to share her knowledge with others and participate in many community or classroom speaking engagements around entrepreneurship, technology, and diversity. She is passionate about mentoring the city's youth and enjoys tournament bass fishing in her free time.